An Early Advertising Cover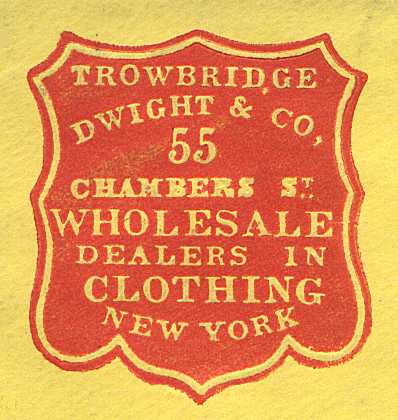 This is an example of one of the earliest types of advertising covers used in the United States. The cover appears to be used in the mid 1860's. The envelope is yellow and the advertising cornercard is a "shield" design.
You can contrast this design with the far more elaborate full color, or finely engraved advertising images shown elsewhere on this website.
Collectors of U. S. Civil War patriotic covers admire the beautiful color printing used on those items, but the advertising covers I've seen from that era are of this more simple design.
Note that this cover is from a garment wholesaler. It appears that New York was in the "rag trade" far back in the 19th Century.
Copyright © 2014 Robert Swanson
Based on Code by Louis Lazaris. See article and original inspiration.
---
More Links
Stamps and Postal History Information
**** If you can read this text, your browser is not supporting Cascading Style Sheets (CSS). You may be running a text-only browser, or perhaps an older browser version. It is also possible that you have disabled Javascript (Netscape). If you wish to see this page with all formatting in place, upgrade your browser, and/or enable Javascript. Sorry for the inconvenience. ****