United States Five Dollar Stamp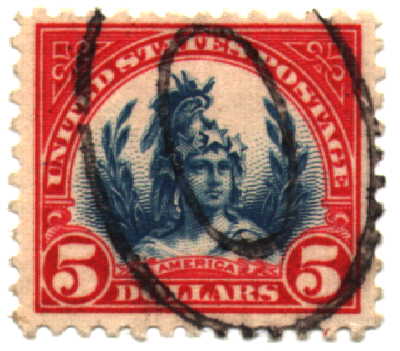 This Five Dollar stamp is considered by many collectors to be the most beautiful stamp ever issued by the United States. It depicts the statue of "America" that tops the Capitol building in Washington, DC. The use of the blue and carmine colors is especially striking. The beauty comes through, even with this used example. (The stamp was part of the new designs issued in 1922.)

These stamps were printed by hand in small sheets, with particularly fine engraving. No inverted stamps are known, even though the famous Inverted Jenny error was printed just 5 years before this stamp was introduced.
Copyright © 2014 Robert Swanson
Based on Code by Louis Lazaris. See article and original inspiration.
---
More Links
Stamps and Postal History Information
**** If you can read this text, your browser is not supporting Cascading Style Sheets (CSS). You may be running a text-only browser, or perhaps an older browser version. It is also possible that you have disabled Javascript (Netscape). If you wish to see this page with all formatting in place, upgrade your browser, and/or enable Javascript. Sorry for the inconvenience. ****