U. S. Special Delivery Stamp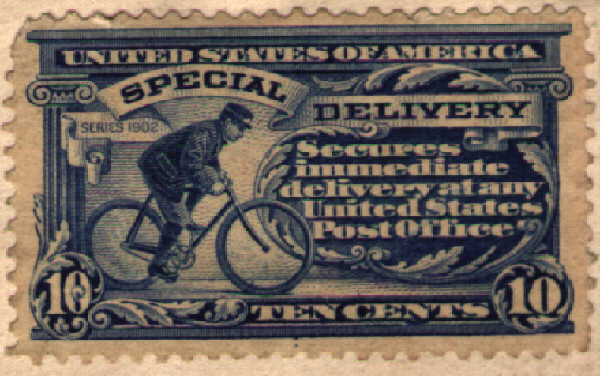 This stamp was used, of course, to pay the Special Delivery fee for letters requiring immediate delivery. Distinctive designs and colors were used for these stamps, to prevent the possibility of these letters being mixed in with regular First Class mail. This particular stamp is assigned the Scott number E6, and was issued in 1902. The engraving is particular fine, depicting what appears to be a Post Office carrier pedalling his bicycle rapidly to deliver the letter to the waiting customer.
It is said that the designer of this stamp posed himself on his own bicycle in his studio for the original photograph. He then used that photograph to engrave the stamp design.
You can view another special delivery stamp on its own page.
Copyright © 2014 Robert Swanson
Based on Code by Louis Lazaris. See article and original inspiration.
---
More Links
Stamps and Postal History Information
**** If you can read this text, your browser is not supporting Cascading Style Sheets (CSS). You may be running a text-only browser, or perhaps an older browser version. It is also possible that you have disabled Javascript (Netscape). If you wish to see this page with all formatting in place, upgrade your browser, and/or enable Javascript. Sorry for the inconvenience. ****