Image of Soldiers Mailing Their Civilian Clothes Back Home Using the American Express Service at Camp Funston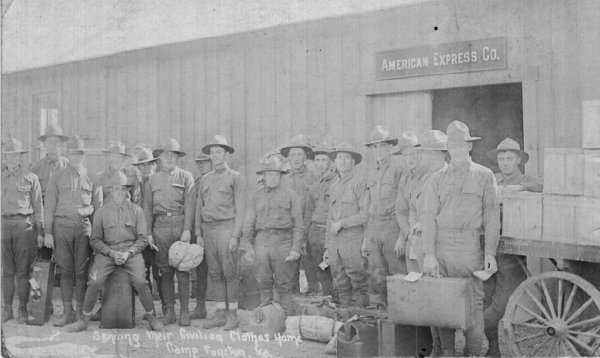 This postcard is one of the few items of evidence I have that shows the presence of the American Express Company at the military camps during the First World War. In this case, the soldiers are posing in front of the American Express building at Camp Funston, Kansas. They are sending their civilian clothes back home, after being issued their uniforms.
You can see the variety of packaging they are sending, including simple bundles of clothes, as well as suitcases they used to carry their belongings to the military training camp.
Both American Express and the Railway Express companies provided services to the soldiers, along with the U.S. Post Office.
Copyright © 2014 Robert Swanson
Based on Code by Louis Lazaris. See article and original inspiration.
---
More Links
Stamps and Postal History Information
**** If you can read this text, your browser is not supporting Cascading Style Sheets (CSS). You may be running a text-only browser, or perhaps an older browser version. It is also possible that you have disabled Javascript (Netscape). If you wish to see this page with all formatting in place, upgrade your browser, and/or enable Javascript. Sorry for the inconvenience. ****