Kansas-Nebraska Overprint on Cover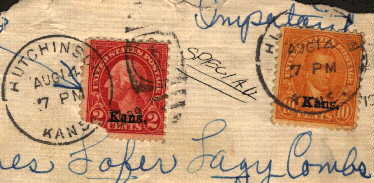 This item is, unfortunately, only a cut fragment of the original cover. It has the 2-cent and 10-cent KANSAS overprint stamps on it, used from Hutchinson, Kansas in 1929.
The original writer endorsed the cover with the word IMPORTANT. A different hand, probably the postal clerk, added the word SPECIAL, which shows that the 10-cent stamp was used to pay for the Special Delivery service. The 2-cent stamp payed the usual first class rate.
I have since stopped collecting stamps, but during the time I did, I tried to collect non-philatelic covers from Kansas and Nebraska with the correct stamps from this overprinted issue. Frankly, finding examples with higher values was extremely difficult. Most higher-valued items offered in auctions are collector-prepared covers, or are postmarked outside of the correct state or usage era.
This was the only postal history piece that I owned with a Kansas-Nebraska overprinted stamp of greater then 3 cents face value.
Copyright © 2014 Robert Swanson
Based on Code by Louis Lazaris. See article and original inspiration.
---
More Links
Stamps and Postal History Information
**** If you can read this text, your browser is not supporting Cascading Style Sheets (CSS). You may be running a text-only browser, or perhaps an older browser version. It is also possible that you have disabled Javascript (Netscape). If you wish to see this page with all formatting in place, upgrade your browser, and/or enable Javascript. Sorry for the inconvenience. ****