Return Address Label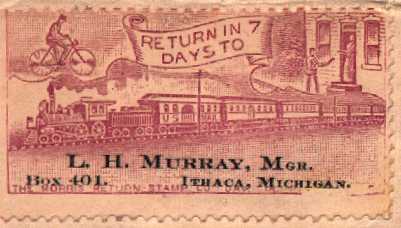 This is the image of a return address label from 1901. As in our era, people purchased these return address labels from printers. In this case, the label states that it was manufactured by "The Morris Return Stamp Company, Dav. Ia." (Davenport, Iowa, I believe).
Careful examination of the label shows that it illustrates some of the many ways that mail was handled in 1901. Included in this nice cut are: a messenger on a bicycle, a mail train, and a mailman handing a letter to a woman in her doorway. The engraving on this label makes modern return-address labels seem rather primitive.
I have an image of another return address label.
Copyright © 2014 Robert Swanson
Based on Code by Louis Lazaris. See article and original inspiration.
---
More Links
Stamps and Postal History Information
**** If you can read this text, your browser is not supporting Cascading Style Sheets (CSS). You may be running a text-only browser, or perhaps an older browser version. It is also possible that you have disabled Javascript (Netscape). If you wish to see this page with all formatting in place, upgrade your browser, and/or enable Javascript. Sorry for the inconvenience. ****