Bear Lithia Water Advertisement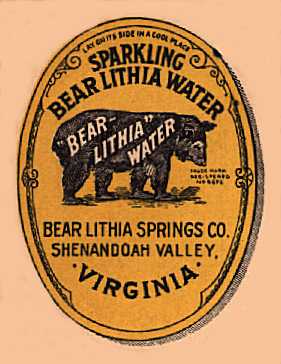 This scan is from the left-hand portion of an illustrated advertising envelope from 1912. There is strong collector interest in this type of cover, primarily because the illustrations are very colorful, and their presence often enhances the value of the postal history item. This cover advertises Bear Lithia Water. I like it because it has a bear in the illustration.
I have some experience with Lithia Water, at least that from Ashland, Oregon. I spent three summers during college in Ashland, the Western "home" of Lithia Water. Around the turn of the century, Ashland was a watering hole, much sought-after by people taking the "cure". While mineral springs are still very popular in Europe (and fully integrated into the health-care system), they declined in the U. S. early in the 20th century. Undoubtedly, Bear Lithia Water was a popular "remedy" in its time.
Unfortunately, the lithia water in Ashland was very strong, and you had to hold your nose and drink it quickly. I have been told that the brand of water advertised here does not have a strong flavor, and the springs are still operating in the Shenandoah Valley of Virginia.
Copyright © 2014 Robert Swanson
Based on Code by Louis Lazaris. See article and original inspiration.
---
More Links
Stamps and Postal History Information
**** If you can read this text, your browser is not supporting Cascading Style Sheets (CSS). You may be running a text-only browser, or perhaps an older browser version. It is also possible that you have disabled Javascript (Netscape). If you wish to see this page with all formatting in place, upgrade your browser, and/or enable Javascript. Sorry for the inconvenience. ****