U.S. Parcel Post Stamp on Cover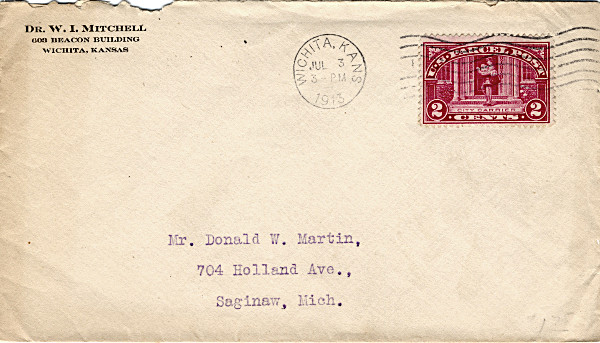 This item shows a single usage of the 2-cent Parcel Post issue on cover. Scott assigns the catalog number Q2 to this stamp.
Most on-cover examples of these stamps seen at dealers' tables or in auctions, date from the period on and after July 1, 1913, when the stamps became legal for use on all classes of mail. When the Parcel Post stamps were initially issued on January 1, 1913, they were legal only for use on Parcel Post mailings. This example shows an early use as first class, specifically July 3, 1913.
While covers used during the early period are desirable, finding Parcel Post stamps on actual parcel wrappers or tags can get very difficult (and expensive) for the collector of these issues. Examples such as this post-July 1, 1913 are more common, but it is still difficult to find items so close to the first legal date of use.
Copyright © 2015 Robert Swanson
Based on Code by Louis Lazaris. See article and original inspiration.
---
More Links
Stamps and Postal History Information