U.S. Parcel Post Stamp Correct Usage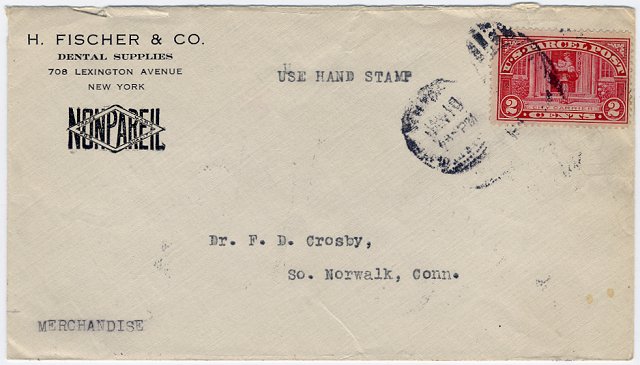 I like these stamps a great deal. They are among the first U. S. stamps to be engraved from photographic images of real situations, not just famous portraits. The images are very pictorial. For instance, the 20 cent stamp from this set is the first stamp issued in the world to depict an airplane.
This cover is an example of the correct usage of the Parcel Post issue. The cover is marked "merchandise" and, while difficult to read, the handstamp appears to be dated January 10, 1913. The cover was mailed by the H. Fischer company of New York City, a dental supply company.
On July 1, 1913, the stamps became acceptable for any postal service, so you more often see them used for first class letters and cards from that date onward. See my main Parcel Post webpage for more images and information.
Copyright © 2015 Robert Swanson
Based on Code by Louis Lazaris. See article and original inspiration.
---
More Links
Stamps and Postal History Information