Use of Revenue Stamp to Pay Postage Due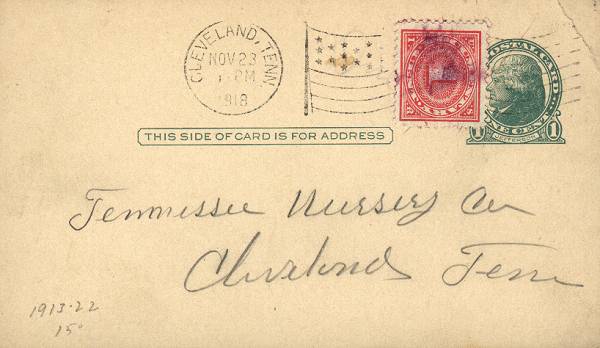 This is the image of a postal card that shows the unusual usage of a revenue stamp to pay a postage due fee.
This postal card is dated November 23, 1918, during the First World War. During that period, the cost of sending a postcard was two cents. The sender needed one more cent beyond the one-cent pre-printed indicia on this card. When someone at the Post Office saw the underpayment, they added a "Due" marking in pencil. It is very hard to see the marking on the card, or in this scan, as it is light and is obscured by the flag cancellation.
The clerk or carrier added a stamp to show payment of the one cent postage due, but rather than use a regular postage due stamp, they used this Documentary revenue stamp. I believe that this is not "illegal" usage, since the stamp was added by a Post Office employee, and not by a postal customer trying to avoid payment.
The revenue stamp is numbered by the Scott catalog as R228, and was first issued in 1917. If you have the time and bandwidth, you can look at a scan of the stamp and "Due" marking in closeup [121k JPG].
I find that unusual usages add fun to the collecting experience, and rarely miss a chance to add new items to my collection.
Copyright © 2014 Robert Swanson
Based on Code by Louis Lazaris. See article and original inspiration.
---
More Links
Stamps and Postal History Information
**** If you can read this text, your browser is not supporting Cascading Style Sheets (CSS). You may be running a text-only browser, or perhaps an older browser version. It is also possible that you have disabled Javascript (Netscape). If you wish to see this page with all formatting in place, upgrade your browser, and/or enable Javascript. Sorry for the inconvenience. ****