U.S.S. Rijndam Troopship Postcard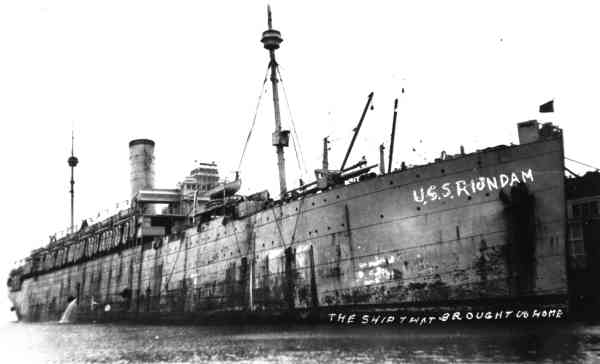 This real photo picture postcard is a companion to my card of the U.S.S. Maui. The card shows the U.S.S. Rijndam, a Dutch troopship used during the First World War by the United States. The name of the ship is handwritten on the photographic negative, along with the line: "The Ship That Brought Us Home". It is probable that these postcards were sold to returning troops by an enterprising photographer. I have seen picture postcards, such as this one, as well as full-size photographs of the ships.
This ship was chartered by the U.S. from the Dutch, and went into service as a troopship in May 1918. With a displacement of 22,000 tons, she could carry nearly 3,200 soldiers. During the War period, she transported almost 18,000 troops to Europe, and after the Armistice, carried nearly 21,000 troops back from Europe. Based on the caption, I would guess that this card was associated only with the returning troops.
The Rijndam was returned to the Dutch govenment in August 1919.
Copyright © 2014 Robert Swanson
Based on Code by Louis Lazaris. See article and original inspiration.
---
More Links
Stamps and Postal History Information
**** If you can read this text, your browser is not supporting Cascading Style Sheets (CSS). You may be running a text-only browser, or perhaps an older browser version. It is also possible that you have disabled Javascript (Netscape). If you wish to see this page with all formatting in place, upgrade your browser, and/or enable Javascript. Sorry for the inconvenience. ****