Children's Handout Card for a Christmas Seal Drive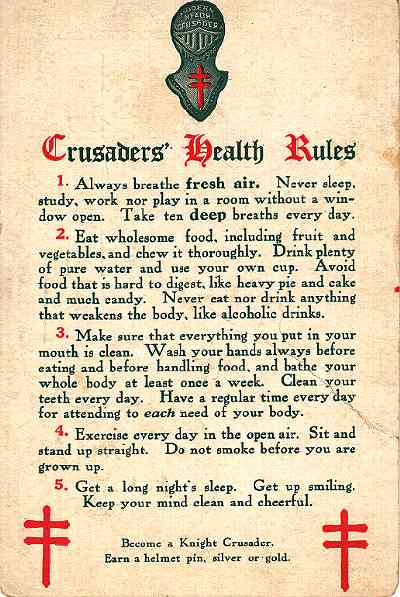 I found this card mixed in with some other First World War material. It empowers its bearer (name on back) to be a "Modern Health Crusader". Even though this card was not meant to be mailed, it is in my collection as interesting collateral of the War effort.
It appears that school children were organized to solicit money for Christmas Seals during the Wartime period. When they signed up, they got this card with a Christmas seal on the back, and an interesting set of health-related rules to follow listed on the front.
Always breathe fresh air. Never sleep, study, work, nor play in a room without a window open. Take ten deep breaths every day.
Eat wholesome food, including fruit and vegetables, and chew it thoroughly. Drink plenty of pure water and use your own cup. Avoid food that is hard to digest, like heavy pie and cake and much candy. Never eat nor drink anything that weakens the body, like alcoholic drinks.
Make sure that everything you put in your mouth is clean. Wash your hands always before eating and handling food, and bathe your whole body at least once a week. Clean your teeth every day. Have a regular time every day for attending to each need of your body.
Exercise every day in the open air. Sit and stand up straight. Do not smoke before you are grown up.
Get a long night's sleep. Get up smiling. Keep your mind clean and cheerful.
(I especially like the "sit and stand up straight" message.)
This set of rules should be considered in light of the fact that the 1917 era saw much disease caused by the lack of proper sanitation and diet in the United States. Controlling the situation was a major effort made more critical by the wartime situation. I expect that these messages provided the child with additional education in public health.
Note also the opportunity to earn a "knight helmet" pin, if the child sold certain quantities of seals. I have seen an image of a "Health Crusader" pin, but I'm not sure if this is the "knight helmet" pin.
Copyright © 2014 Robert Swanson
Based on Code by Louis Lazaris. See article and original inspiration.
---
More Links
Stamps and Postal History Information
**** If you can read this text, your browser is not supporting Cascading Style Sheets (CSS). You may be running a text-only browser, or perhaps an older browser version. It is also possible that you have disabled Javascript (Netscape). If you wish to see this page with all formatting in place, upgrade your browser, and/or enable Javascript. Sorry for the inconvenience. ****