Christmas Seal 'Tied' on Postcard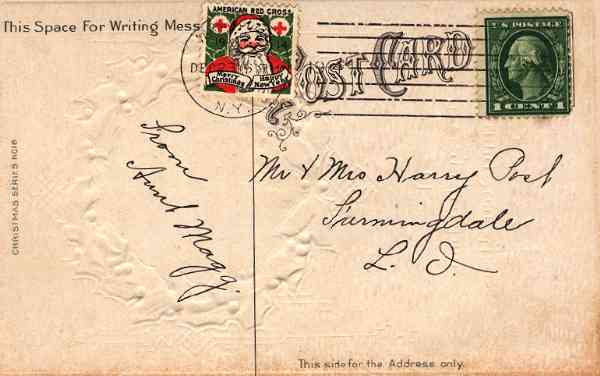 This is the image of the address portion of a Christmas-themed picture postcard. I have collected this item, because it shows the Christmas seal "tied" to the cover by the Post Office cancelling machine. These covers are quite popular, since they show a use of the charity seal that could be interpreted as illegal. The address portion of a cover or postcard was supposed to have only postage stamps attached in the upper right (where they would be cancelled). However, I have found information in the U. S. Post Office Postal Bulletin that directs clerks to allow this practice during the month of December.
This item was used on December 23, 1914 from Farmingdale, New York. As an added item of interest, the machine which cancels this post card was manufactured by the Cummins/Time-Marking Company. I have additional information about these types of machine cancellations on my machine cancel pages.
Other examples like this can be seen at this page with a tied Christmas seal.
Copyright © 2014 Robert Swanson
Based on Code by Louis Lazaris. See article and original inspiration.
---
More Links
Stamps and Postal History Information
**** If you can read this text, your browser is not supporting Cascading Style Sheets (CSS). You may be running a text-only browser, or perhaps an older browser version. It is also possible that you have disabled Javascript (Netscape). If you wish to see this page with all formatting in place, upgrade your browser, and/or enable Javascript. Sorry for the inconvenience. ****