A Very Early Advertisement for Christmas Cards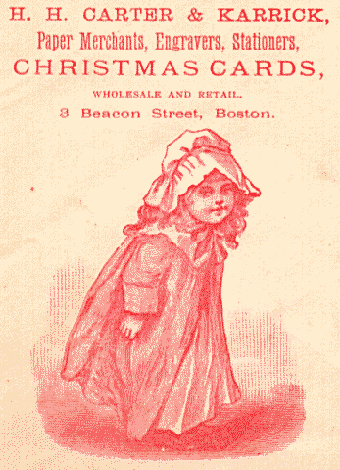 I was attracted to this item because of the very nice engraved image of the child. Then I saw that the image was part of an advertisement for a stationery company in Boston that sold Christmas cards.
What is more interesting yet is the fact that this cover dates from 1888, which I consider to be an early usages of these cards. During the "postcard craze" around the turn of the 1900's, there were millions of holiday cards printed and mailed. Wikipedia offers a more complete history of the Christmas Card, noting that the first card was seen in 1843.
Copyright © 2014 Robert Swanson
Based on Code by Louis Lazaris. See article and original inspiration.
---
More Links
Stamps and Postal History Information
**** If you can read this text, your browser is not supporting Cascading Style Sheets (CSS). You may be running a text-only browser, or perhaps an older browser version. It is also possible that you have disabled Javascript (Netscape). If you wish to see this page with all formatting in place, upgrade your browser, and/or enable Javascript. Sorry for the inconvenience. ****