Rosters of the U.S. Army Spruce Squadrons of the First World War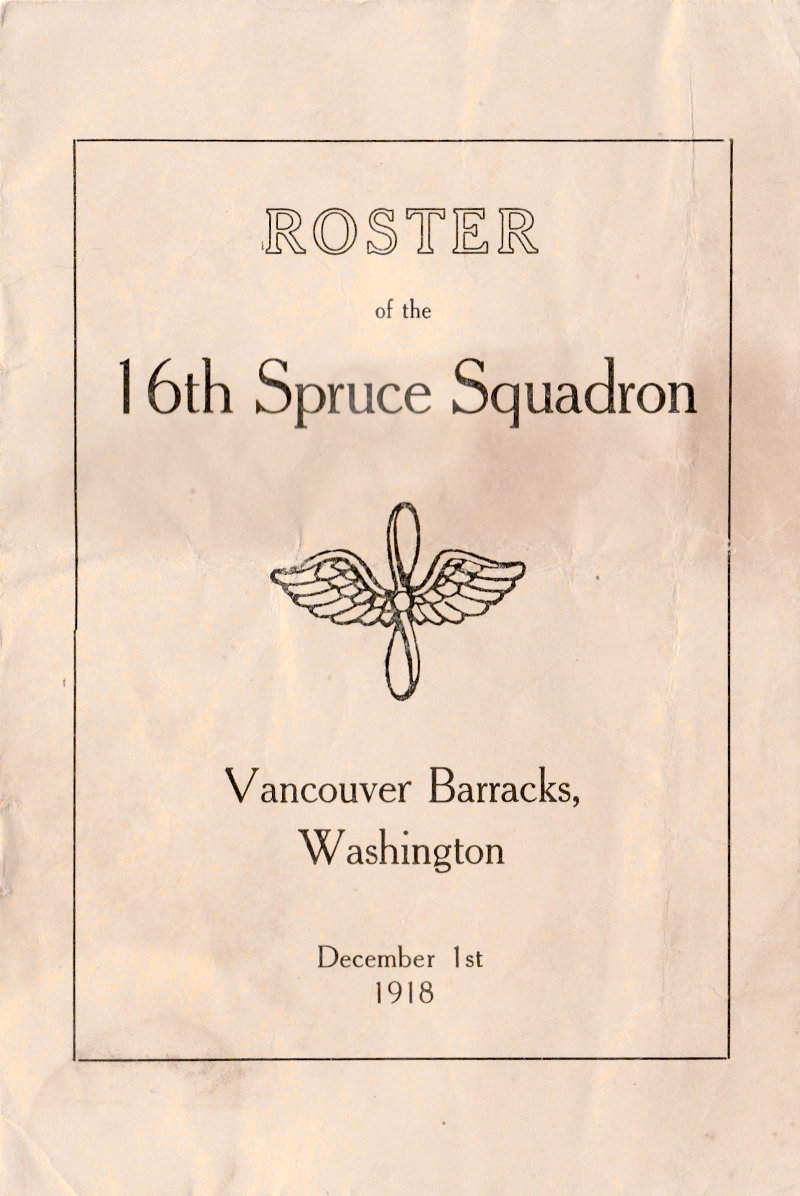 People often email to me, asking if I have rosters of the Spruce Squadrons who served in the First World War in Washington and Oregon. For the most part, I do not, and generally cannot connect a soldier's name with a particular unit. Aside from a few items in my collection, I have received scans of several additional rosters, courtesy of some very generous correspondents. See below for those that I have posted on my website.

See my Spruce Squadron history page for general information about these units that served in the U. S. in 1918.


There is an article on Wikipedia that discusses the Spruce Production Division history and operations .

The Wikipedia article mentions that:

At the U.S. National Archives in Seattle, there are approximately 187 cubic feet (5.3 m3) of records related to the division, as well as "a complete roster of all military personnel in the Spruce Production Division as of 1 November 1918."[5]

The reference given with this statement is: article about the National Archives material describing the Spruce Squadrons.
Roster Links
As noted above, some generous collectors and correspondents have supplied scans of some rosters, which supplement the few that I have in my collection. For the most part, these are PDF files. See this page on downloading and viewing PDF files, for more information.
16th Spruce
Roster of the 16th Spruce Squadron (generously supplied by a collector, this brochure is dated December 1, 1918)
[More information about the 16th Spruce Squadron]
17th Spruce
This item is not only a roster, but is a complete booklet about the history of this unit. The 17th was one of the units that ran the "cut up plant" in Vancouver, Washington. The booklet contains very important information about the formation and operation of the unit, as well as the construction and operation of the cut-up plant, not available elsewhere. The book is located in the Washington State Library. A correspondent was able to secure a PDF file scan of the book.

The book's catalog entry is located at: history of the 17th Spruce, located at the Washington State Library.

The PDF scan of the entire booklet, including the roster is at: 17th Spruce history and roster booklet. Just the photos in this booklet make up a terrific resource of Spruce Squadron history.
[More information about the 17th Spruce Squadron]
26th Spruce
Roster of the 26th Spruce Squadron (from a souvenir program for a Thanksgiving dinner held December 1, 1918)
[More information about the 26th Spruce Squadron]
28th Spruce
Roster of the 28th Spruce Squadron (from a souvenir book printed for the unit in December 1918)
[More information about the 28th Spruce Squadron]
43rd Spruce
Roster of the 43rd Spruce Squadron (image from Washington State Historical Society, probably from a souvenir booklet (dated December 10, 1918) produced before the unit was demobilized.)
[More information about the 43rd Spruce Squadron]
53rd Spruce
Souvenir Book with Roster of the 53rd Spruce Squadron (scans generously provided by the owner of an original copy of the book).

I have extracted the text from the book images, so here is one item from the book: A 'story' created for the book, describing an outside visitor's experience at the spruce camp. I can offer a roster listing, grouped by Unit organization, at: the 53rd Spruce Squadron roster, grouped by unit organization, as well as the roster, sorted by last name at: the 53rd Spruce Squadron roster, sorted by last name.

[More information about the 53rd Spruce Squadron]
79th Spruce
Roster of the 79th Spruce Squadron (from a souvenir booklet produced before the unit was demobilized. This folder was shared with me by the family of Abe Meeks, whose name appears in the roster.)
[More information about the 79th Spruce Squadron]
93rd Spruce
Roster of the 93rd Spruce Squadron generously provided by a family member.
[More information about the 93rd Spruce Squadron]
More Links
General Spruce Squadron Information
WWI Information (including Bob's WW I Books)
---


Page Layout Design Made Possible by: Vanilla.

Updated August 18, 2020